Guest Blog - Ethics and Technology: Incompatible or Complementary? By Mark Roden, CEO, Ding
February 2020
Earlier this year, I had the pleasure of hosting a panel at the pavilion of the Interfaith Alliance for Safer Communities at the 50th World Economic Forum Annual Meeting in Davos, Switzerland. Since 2001, faith leaders have played an increasingly prominent role at the World Economic Forum, and I was delighted to be engaged in conversations with some of these faith leaders on how technology companies can ensure that our products and services are held to a high moral standard and positively impact those in vulnerable communities across the world. Technology leaders have a responsibility to act morally with compassion now more than ever. Economic inequality has fueled the displacement of people across the earth, and we at Ding are fully committed to fulfilling our goal in helping those vulnerable communities. While the Fourth Industrial Revolution brings with it immense opportunities for the developing world, it also brings with it challenges which make our work all the more important.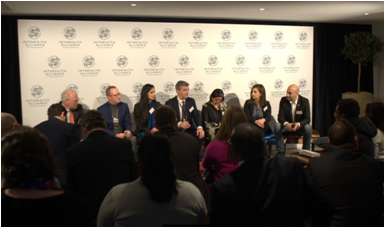 "Creative disruption" or "disruptive innovation" has been a major challenge for industries all over the world, however, disruptive technology also creates opportunities for people to harness this change to their advantage. It can help to foster positive change in vulnerable communities by empowering the most vulnerable to pro-actively participate in the benefits of that disruption and take ownership of it to pursue their own local ends (e.g. connectivity via mobile phone allows women in Sub-Saharan Africa (who usually own the phones) to act as a conduit for the community to access to the internet. In some countries they use internet access to enable farmers to find out the price of goods on sale in the market and avoid an unnecessary journey, or permit others to set up a local business and access educational tools to enable them to do this. They are literally empowered by the mobile phone to effect transformative change in their communities and in their lives. This does, of course require digital fluency/literacy, which is a policy issue to be considered. Another issue is affordable access to the internet and this is one where remittances via mobile phone can play a significant role. 
Compassion is the fundamental basis for  ethical and responsible leadership by business and governments.  In the case of migrants, the ability to see the migrant not as an alien but as a fellow human being, whose needs are an amplified version of our own desire for connectivity, for example migrants' desire to keep in contact with family and community in their country of origin. The fulfilment of this desire to support their families back home, particularly those who are unbanked and therefore not viable customers for multilateral development banks, relies on connectivity platforms such as Ding to come up with creative new solutions and services on their platform to assist them in transforming their lives and communities.  Technology such as social media can lead to xenophobia towards refugees but refugees and IDPs can also share their stories through YouTube and Facebook, creating awareness and stimulating a more compassionate response from people in countries of destination. The 'principled' use of technological innovations can create meaningful interactions between host countries and migrants, creating a sense of trust which is needed for migrants and refugees to sustain themselves. 
There should be an ethical framework for companies operating in today's world. Technology today is more complex than ever before; the interaction with the real world is being interfaced with the Internet of Things via devices and sensors at a scale and speed that is unprecedented. The question of ethics comes up when we talk about the governance of AI.  Many practitioners refer to the danger of anthropomorphism: if researchers and others humanize a piece of technology with a face or name (such as Amazon's Alexa or Apple's Siri), there is a risk in humanizing what is essentially code, and thinking that it has agency and can make autonomous decisions. Human agency is essential in our connected world.   
There is not a fundamental conflict between technology and faith but in practice they can clash. Both are universal, one rooted in science and innovation, the other in values. Faith is based on respect for the human person.  Technology is value neutral and can be used either to destroy or enhance our humanity. The problem is not technology – it is the person using it and the values he or she espouses. On the other hand, technology cannot provide us with the ethical standards to apply to it, so faith is the way we can assess the value of technology. If technology and faith operate in pursuit of truth, they are just pursuing the same goal by different methods. Ding technology operates independently of faith, religion, geography and gender as its mission is connecting people. It adopts a values based approach in its work, celebrating connectivity on international migrants day, attempting to use its platform for the greater good of mankind and in support of the SDGs. My time at Davos this year inspired me to think deeper about these moral and ethical responsibilities that technology companies have. It is my sincere hope that moral and ethical conversations and deliberations such as these will also inspire action that will ensure a brighter future for our world. 

About Mark Roden: Mark founded Ding in 2006 to enable foreign workers abroad to instantly recharge mobile phones of family and friends back home. Today he is CEO and has been instrumental in the global expansion of the business, which today reaches billions of phones, through a network of 500+ mobile operators, in more than 140 countries. 
You might be interested in…
Faith leaders: an untapped resource in protecting…
January 2020
Faith has a crucial role to play in providing a moral framework for the Fourth Industrial Revolution and also tackling issues at a local…
Visit Site
Davos: the role technology can play in stopping the online…
January 2020
Davos, Switzerland, 23 January 2020. The Director of UNICRI, Bettina Tucci Bartsiotas, and the Head of the UNICRI Centre for Artificial…
Visit Site
World faith leaders join governments, nongovernmental…
November 2018
Faith leaders from across the globe met in Abu Dhabi Nov. 19 and 20 to hear from and discuss with governments, civil society organizations…
Visit Site
Email Address required…
Please provide your email address to download the file